February 5, 7 &8, 2022
Embarrassing Information!
with Scott Hardin
of Science Shepherd
Analysis of the ever-growing genetic information database leads to the irrefutable conclusion that evolution is scientifically invalid. Information theory applied to biological origins invalidates the evolution model while completely supporting the creation model of Genesis!
January 1 - April 30, 2022
Farewell to Dr. Kevin Anderson
Covid, with other problems, has claimed another creationist scientist. Recently we mentioned the death of Dr. David Menton. Perhaps he was at Heaven's gate to welcome home another warrior for truth and the reliability of the Bible.
In July of 2021 MCF was honored to hear from Dr. Anderson in person, on soft tissues found in dinosaur fossils. We just heard that Dr. Anderson is now with the Lord, as of January 16, 2022. Pray for his wife Diane, their son Robert, and the CreationResearch.org board, as this is a big void that will need to be filled. He lead the research in their new laboratory at Arizona Christian University.
Here's the video of his presentation to MCF on soft tissues in dinosaur bones: Are Dinosaur Proteins Immortal?
As of January 24, I can find no obituary, but the Institute for Creation Research has published a memorial page.
Video: Eight Areas of Evidence Confirming that the Bible is God's Word
You might have attended one of Rick's breakout sessions at the September, 2022 Creation Truth Conference at Trinity International University. Several years ago, the Lord impressed on him that many young people walk away from Christ because they believe that the Bible has been properly discredited. Nothing could be further from the truth -- and Rick is prepared to tell you why!
Click here for links to collections of our own meeting videos, plus great sources of other groups' FREE online videos!
Biblically-Based Tours of the Grand Canyon . . .
with Russ Miller, Eric Hovind and Helmut Welke. Both tours start and end in Phoenix Arizona. Minimum age is 6. These include an easy raft on a section of the Colorado River as well as luxury bus and hotels.
For prices and registration, call Helmut at 563-940-5360 or email evolutionisdying@yahoo.com to request a flyer and registration Form.
June 23-26: Grand Canyon Rim & Raft tour

Three nights by bus from and returning to Phoenix. For prices and registration call Helmut at 563-940-5360 or email back to request flyer and registration Form. More info
August 3-7: Grand Canyon Rim & Raft tour

Includes an extra day in Page, AZ to visit Antelope Canyon and the north rim of the Grand Canyon. More info
IMPORTANT NOTE TO THOSE WHO ATTENDED OUR DECEMBER 6, MONDAY NIGHT MCF-NORTH MEETING AT BEAUTIFUL SAVIOR LUTHERAN CHURCH IN ANTIOCH:
Bruce Malone's pre-orders for his upcoming Without Excuse creation devotional were accidentally left in his hotel room Monday evening. The hotel staff has so far not been able to locate what is missing. Therefore, the information you provided is presumed to be lost.
There are about 12 people who preordered books. One person preordered 10 books.
To anyone who preordered the book(s): please send the following information to Bruce Malone (bnrmalone@gmail.com) and Ken Funk (fisherman220@juno.com). Please tell us:
The number of books you ordered
Your physical mailing address
The books will be mailed directly to you when they arrive in March. Bruce needs your address as the forms you filled out were lost. In the event we can't construct the list because some attendees are not on our mailing lists, the books may be shipped to Ken Funk for distribution at the April MCF-North meeting.
NOTE: MCF-WEST Preorders are NOT affected.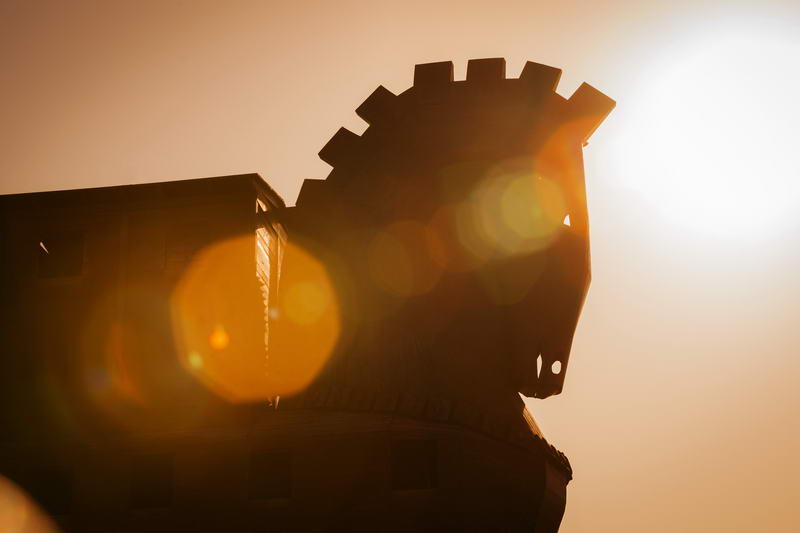 A $15,000 Trojan Horse?
The Trinity Evangelical Divinity School's Henry Center Creation Project (HCCP) has offered a $15,000 grant to pastors who will participate in their efforts to teach their churches about how theology aligns with science. While we agree that synching science and theology is needed, this project seems to be a Trojan Horse! HCCP is heavily favoring Theistic Evolution rather than a grammatical/historical interpretation of Scripture! Read more