Downloads
---
Library Catalogs
Please go here to find the catalog documents in PDF form. Updated June 2017
---
Crossword Puzzles
These are downloadable PDFs. The answers are on the bottom; you just figure out where to fill them in. OR contact us and we'll give you a no-answers-shown version. Three pages each: one with picture, without picture, one with answers filled in. Print only the page(s) you wish!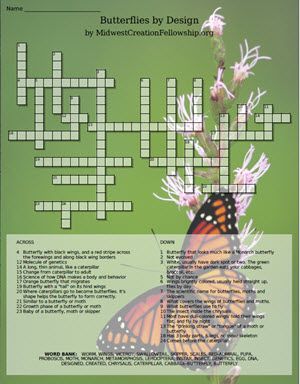 Butterflies by Design
In line with our "Butterflies by Design" theme for the Lake County Fair, we've made a crossword puzzle to while away rainy hours, and to teach a bit about butterflies.
A few facts about "terrible lizards" and some other creatures that evolutionists believe have been extinct for millions of years! (By the way, the photo is of an exhibit at the Creation Museum in Kentucky.)
---
Museum Guide
These are downloadable PDFs. Print as many as you need to take with you to the Chicago Field Museum. The trifold brochure is 1 sheet; the other is a 34-page booklet.
This is a 34-page commentary on the Evolving Planet Exhibit at the Chicago Field Museum. Prints on letter-sized paper. The information can be applied to similar statements made in other museums' exhibits, textbooks, TV shows, newspapers, lunchroom conversations, etc.