Walter I. Sivertsen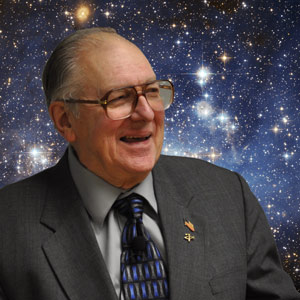 Walt is the President of Midwest Creation Fellowship, and has avidly studied the creation/evolution controversy for several decades. His career in chemistry and his certification in quality engineering make him particularly knowledgeable about how science operates, and when it is not literally the scientific method that is operating. Since junior high school, he has been an amateur astronomer. For entertainment, he studies astronomy, calculus, thermodynamics, and all things related to the creation/evolution issue.
Education:
B.S. in Chemistry, 1959, from St. Bernardine of Siena College in Loudonville, New York.
Certificate in Biblical Studies, 1986, from Trinity Seminary in Deerfield, Illinois.
He has been a member of the American Society for Quality (ASQ) for over 30 years, and while working at Abbott Labs, he was trained and certified as an ASQ Quality Engineer in 1974..
Career:
College was followed by service in the U.S. Navy at the Naval Hospital, Bethesda, Maryland, doing research on a biological dosimeter for radiation exposure.
After discharge from the Navy, he worked for Abbott Laboratories for 29 years. During most of that time, he performed, supervised, and developed chemical quality assurance testing of Abbott products. In 1986, he resigned his position with Abbott as a Reference Standards Chemist.
After a year in seminary, he rejoined Abbott, providing technical support for new product development of eye care products. He retired in 1993.
Other:
Mr. Sivertsen realized his need of a Savior and was born-again in March, 1950, at a Word of Life Rally. He later served in a local church for 35 years as, at various times, adult Sunday school teacher, Sunday school superintendent, financial secretary, treasurer, and board chairman.
His life-long hobbies are astronomy, bird-watching, and studying the creation/evolution issue. Walt now volunteers with the Lake County Forest Preserve District as the volunteer Bluebird Administrator. He also serves Midwest Creation Fellowship as President, Speaker Bureau Coordinator, Speaker, Assistant Librarian, and the main author of MCF's Newsletter.
Available Talks:
Sterile Stellar Nurseries

- Evaluation of the various theories of star formation in the early universe, demonstrating that the data from science does can NOT explain the formation of the earliest stars.

The Heart and Core of the Creation-Evolution Issue

- compares different worldviews on a continuum, from most "spiritual" to most naturalistic. Where does the Bible's view of history fit on this line?

Enlisting Bomby, the Bombardier Beetle

- this beetle's defense mechanism involves shooting boiling hot liquid at its enemies. The presentation demonstrates that the chemistry and body structures of the defense mechanism were designed! (You Tube of beetle in action )

All Noah's Children

- If we use all known historical population figures, the current world population number would develop in a few thousand years. Evolutionists say that humans have existed for hundreds of thousands of years! Was the human population so small that it teetered on the brink of extinction for 99% of its existence, as is claimed by evolutionists? How old are those Cro-Magnon and Neanderthal graves, anyway?

Our Amazing Spaceship Earth

- Review of characteristics of the earth showing that they are optimal, and it is statistically evident that earth was designed!

Creation and the Cross

- showing that the cross and the Gospel would be meaningless if evolution were true. But creation is true and the Gospel makes sense!

The Age of the Earth

- is actually a historical, rather than a scientific, question. The scientific method requires that the hypothesized events be observable and repeatable. The origin of earth is neither observed nor repeatable. We need to use the "legal method," which requires circumstantial evidence and/or eye witnesses. We have both!

Understanding Creation's Tiny Mystery

- review of radiohalos and their implications for earth's natural history .

Comparison of Origin Models on Basic Scientific Issues

- review of six scientific laws or principles and how they agree/disagree with creationism and evolutionism.

"Enlightenments" in Human History

- started with Genesis 3:5, ("...your eyes will be opened, and you will be like God, knowing...") That first "enlightenment's" promise set the pattern for all others: rejecting God's Word and freeing oneself for better knowledge!