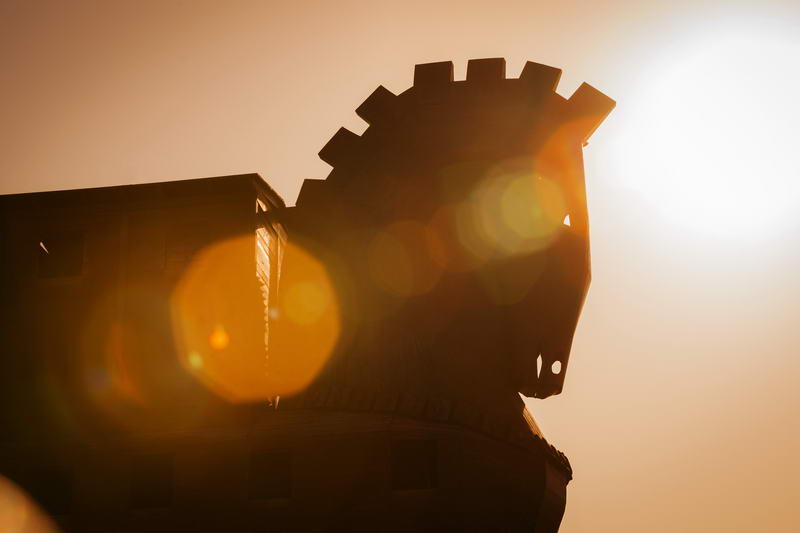 A $15,000 Trojan Horse?
Summary: The Trinity Evangelical Divinity School's
Henry Center Creation Project
(HCCP) has offered a $15,000 grant to pastors who will participate in their efforts to teach their churches about how theology aligns with science. While we agree that synching science and theology is needed, we need to recognize that scientists' views keep changing, but God's Word does not! Also, this project seems to be a Trojan Horse! HCCP is heavily favoring Theistic Evolution rather than a grammatical/historical interpretation of Scripture.
The Henry Center Creation Project (HCCP) associated with Trinity Evangelical Divinity School/Trinity International University (TEDS/TIU) has been studying the subject of biblical orthodoxy and science with the goal to bring the two together and to share what they glean with the Church. Their call for pastors to inquire about the John Stott Award for Pastoral Engagement has recently gone out with the solicitation: 'We Want to Partner with Your Church Through a $15,000 Congregational Grant.'
The key reason for this note of alarm is that the Henry Center Creation Project gives NO evidence of evaluating the creation research data in a fair and balanced way. The Creation Project gives grants to professors and invited lecturers with credentials in Hebrew, Ancient Near East (ANE) manuscripts and Old Testament, who hold less than the traditional conservative view of the Scriptures. For example, the first 6 fellows funded by the Project were not scientists nor of a young earth view.
The few subsequent invitees of a young earth persuasion are reported to be theologians rather than scientists. The last we checked, the HCCP was comprised only of theologians. If the Project is to bring 'biblical orthodoxy and science' together, where are the scientists? Especially, where are the scientists who support the Church's original position: 'For in six days the Lord made the heavens and the earth, the sea, and all that is in them, … ' Granted, there are no scientists teaching in the Trinity seminary, but there are Young Earth scientists teaching in TIU, on the same Deerfield campus. 'The Creation Project is a three year initiative designed to nurture evangelical engagement with the doctrine of creation in all of its historical, theological, and scientific complexity.' However, it ignores input from scientists who believe the Bible in the traditional, grammatical, historical sense? If you promote theologians trying to meld their theology with science, why not also scientists trying to meld their science with theology?
Evidence-based science in the chemistry of the origin of life, irreducible complexity, the origin of male and female, the origin of coded information in living tissue, massive mega sequence layers laid down by water all over the earth, and other evidences for a young Earth, support the Genesis record. Numerous creationist scientists and speakers with legitimate scientific credentials in various 'hard science' disciplines, as well as creationist organizations and peer-reviewed publications, have for years recorded and evaluated data showing the theistic evolutionary and geological views are untenable, unnecessary, and inconsistent with a normal grammatical/historical reading of Genesis 1-11. Excluding these scientists and evidence shows strong bias, since they are not given a voice in a manner like to those holding to or leaning toward theistic evolution and millions of years.
The Henry Center at TEDS/TIU states on its Creation Project website that it adheres to the Evangelical Free Church of America's statement of faith. It also makes clear that it does not take an 'official position' on the age of the earth or the theory of evolution. The Henry Center Creation Project claims openness to discussions to unite traditional orthodoxy and science.
However, John Stott, Dr. Francis Collins - founder of BioLogos, and sadly some of the Old and New Testament professors at TEDS, do not hold or teach a view that Genesis is a literal and historical record of the events recorded, particularly in Genesis 1-11. While sincerely claiming support for biblical authority, their prevailing theological position aligns with the 'framework hypothesis' - 6/7 days which represent creation-filling-resting, a view that regards Genesis as 'mythological prose' written by Moses, rather than history. While biblical authority is 'supported', their position is that 'Young Earthers' (who take Genesis 1-11 as history) are interpreting Genesis incorrectly; that Moses' prose is filled with stories borrowed from ANE writings to combat the views of origins of his time.
This view of Moses' writings allows for the intellectual pursuit and evaluation of Darwinian Evolution and deep time, and attempting to mesh it with Scripture. The belief and implications are that 'science,' more precisely, the views of naturalistic/atheistic scientists, supersede the divinely inspired Word of God. Knowingly or not, this puts those who hold these and similar views of Scripture into the same category as those who question the God of the Bible, as Satan did: 'Did God really say ...?'
The funding for these grants has its source in the John Templeton Foundation (JTF) which has provided about 8 million dollars in two grants to TEDS/TIU under the foundation's Science and the section on 'Big Questions: Philosophy and Theology'. The JTF is strongly associated with and funds BioLogos, a theistic evolution organization founded by Dr. Francis Collins, Director of NIH and headquartered at Calvin College.
Pastors and elders: Please be advised that scientific revelations in creationist journals, share and analyze the same data that is available to secular scientists in several scientific disciplines, particularly in the fields of biology, chemistry, geology, genetics, mathematics, information theory and design. These all clearly demonstrate that Darwinian Evolution never happened, and Noah's Flood did happen.
Therefore, be warned that allowing your church to 'partner with' and 'participate' in such a grant funding sounds extremely attractive, but it appears to us that the proverbial 'Trojan Horse' intends to move congregations toward the liberal, naturalistic, and secular humanist direction!
Follow the money and beware.
Churches and their pastors, who are theologians and not scientists, have for the most part not adequately addressed this subject from the pulpit, in favor of 'just preaching Jesus'. The result has been "compromised' churches with congregants on opposing sides of this issue or with little interest in it. Members and attendees are ill-equipped in apologetics to defend their faith against Naturalism or to train up their children to defend and embrace their faith. As a result, it is documented that high percentages of their offspring are not equipped to defend their faith when confronted by secular humanist professors at secular and Christian institutions of higher learning. Many abandon their faith, and do not return to church upon graduation.
Sadly, most pastors do not want to stir up controversy within their congregations. Most refuse to allow creationist speakers in their pulpits. But there is help available from an expanding number of creationist speakers, organizations and web sites willing to share current science in support of God's Word as written.
Your local chapters of the Midwest Creation Fellowship are here to help.
Signed,

Walter Sivertsen
President, Midwest Creation Fellowship
rev SLBS, WIS/07-01-21