Midwest Creation Fellowship (MCF) is a Christian ministry dedicated to demonstrating the historical and scientific accuracy of the Bible, principally in Genesis. Our services include:
Student Essay Contest
Winners Are Being Notified!
The Contest ended April 30, and the results are going out to all participants, including the judges' comments for each participant's paper. Some winners will be invited to present their information at an autumn MCF meeting. (No winners elected to do so for the 2013 contest, so no meeting was held. Some live hundreds of miles away.)
We intend to post winning papers by the end of July. HOWEVER, we have become concerned that if the winners are identified online (especially, online), their chances of exclusion from schools and jobs will multiply! So, we have decided to post winning essays, with winners' names being pseudonyms. Look for the 2014 essays, and prior years, to show up a bit later.
Announcing MCF-North!
Starting Monday, September 8, 7:00-8:30 p.m.
Lindenhurst, IL
For all those who have missed out on the great presentations we've seen in Carol Stream over the past few years, good news! We've finally got a monthly meeting for the northern suburbs, at
St. Mark's Lutheran Church
(the Education Center)
1822 E. Grand Ave., Lindenhurst, IL.
Our first speaker will be Paul Taylor, whom you may have seen on the Creation Today TV show with Eric Hovind.
Look here for more on MCF North vs. MCF West.
Topic: The Six Days of Genesis

July 23-27, 2014
MCF at Lake County Fair!
Lake County Fairgrounds Grayslake, IL
Come see us in the Commercial Building. We're in the back, on the left, with the non-profits.
Update, July 25: Wednesday-Thursday, "business" was a bit slow, and not just for our booth. But that's to be expected on a weekday. We're signing up people to hear about coming events, and having some interesting conversations with visitors. So far, no wild-eyed hostiles have shown up. But please DO pray for this outreach, that God will send people to us, and make us alert to how we can help them, both for their ability to trust the Bible and to trust Jesus Christ as their Savior and Lord.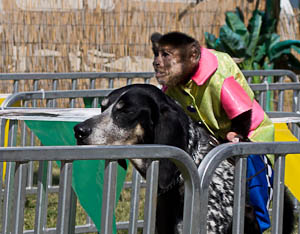 Besides the MCF booth, my personal favorite thing at the fair is the "Banana Derby!" Two capuchin monkeys race, riding dogback. The show is free; they must make their money getting people to have their photos taken with a real monkey. - Sharon Sivertsen
MCF-West Begins the new season on
Tuesday, September 2, 2014
6:45: Refreshments
7:00 - 9:00 p.m.: The Six Days of Genesis, and Q&A
with Paul Taylor of JustSixDays.org
25W560 Geneva Road, Carol Stream, IL
Taylor's book of the same title deals with why we should take "In six days God created..." as literal fact. Here's the Amazon listing for the book The Six Days of Genesis. He also makes available chapter 1 by download, as a PDF.
No charge, everyone welcome. We do pass the plate for help to cover expenses of these meetings.